Tips to keep your heating costs low while maintaining healthy, beautiful plants!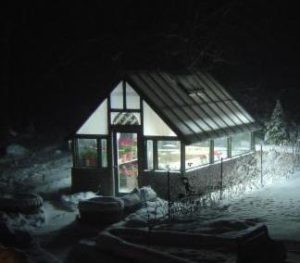 With the right system and appropriate TLC, you'll have healthier, more abundant harvests, reduced plant care and grocery expenses.
Now is the time to make plans to reduce your energy consumption this winter, and here are some simple yet effective ways to do so.
Seal and Insulate
If you decide to install new heating units or systems in your greenhouses, take these preparatory steps first. This will help ensure that your heat and money aren't leaving the greenhouse. Here are a some things you can try to help get as much free heat and insulation as possible:
· Make sure both the interior and exterior walls are clean of dirt so maximum sunlight can pass through.
· Caulk and seal leaks, tears, and holes in the structure.
· Consider upgrading your greenhouse material to a better insulator like Solexx.
· Fill buckets or old milk jugs with water and paint them black (or add a dark dye to the water). They will collect heat during the day and slowly release it back into the greenhouse at night.
· Line the base of the greenhouse with hay bales.
· Hang Christmas lights around your plants for extra heat.
· Use a seedling heat mat or two under your more sensitive plants and cover with a tall humidity dome. Or make a mini greenhouse within your greenhouse using Solexx.
Insulating your greenhouse is key to keeping the heat in and the cold and wind out.
On a side note: If you are thinking about buying a greenhouse or recovering an existing greenhouse, our Solexx coverings are superior insulators and minimize heat loss. To see how Solexx compares to other forms of greenhouse covering, check this brief chart. 
Choose Suitable Heating
Whether you want to grow exotic non-native plants, maintain a vegetable garden, or plan to grow flowers through the winter, keeping your plants comfortably warm is imperative. Choosing a heating system will depend in part on the size of your greenhouse, the needs of your plants, and your personal budget.
We have heating units to suit many needs and budgets, including electric, natural gas, and propane. Before you choose, take a look at our heater calculator to help determine your heating requirements. Then, we suggest you peruse the different heating options we offer before making a final selection.
Monitor Temperatures
Temperatures can fluctuate radically from night to noon. Therefore, it's important to monitor the air your plants breathe. First you'll need a thermometer to measure indoor and outdoor temperatures. You can keep track of both, as well as greenhouse humidity levels, from the comfort of your home with our wireless forecasting unit.
Keeping humidity levels moderate requires keeping the greenhouse dry. Water carefully, so plant leaves and surfaces stay dry most of the time, and water early in the day so the water evaporates before evening. And of course, desirable humidity levels vary with the temperature.
Cool Weather Care
With the proper heating care, your greenhouse plants will be more robust, you'll spend less time and money on pest remediation, and you'll lower your heating and grocery bills. Just take care to seal and insulate your greenhouse, maintain proper temperatures and humidity, and select the right heating systems. Here at Greenhouse Catalog, we've got just everything you need to do the job right!