Summer Strategies for Greenhouse Growing

One of the joys of summer gardening is that plant growth is typically fast and the harvests abundant. But when temperatures climb, the heat and light that propel growth may be too much of a good thing. It's best to take steps right now to keep the greenhouse at optimal temperatures this summer, so plants continue to thrive. Try these 3 simple tips:
1. Circulate the Air
Cool and Clear the Greenhouse Air. Monitor your greenhouse temperature, so you can adjust the environment as necessary. There are both natural and mechanical ways to provide your plants with the air temperatures they find comfortable in the summer greenhouse; many growers prefer a combination of the two.
For natural means, you can open doors, windows, and vents to cross-ventilate; installing base vents at the bottom of one end of the greenhouse and a louver at the opposite side of the greenhouse will promote a natural ground-up cross circulation through the greenhouse.
If natural circulation is not adequate, stale air can be pushed out with exhaust fans. The air can be kept evenly warm with circulation fans.
Louvers can also provide just the right amount of natural air into the greenhouse, with or without an associated fan. Try one of our heat sensitive louvers, which will automatically open and close based on the interior temperature.
We have plenty of other cooling and ventilation options, to suit all needs and budgets. Just click here for more.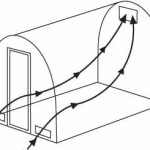 Clear the Clutter. Circulating the air will be most effective in an uncluttered greenhouse. Move some of your plants onto benches and tables. Prune your more exuberant plants back to make sure they're not touching one another, and move some plants outdoors if they can tolerate the heat.
2. Diffuse the Light
Indirect light is better for your plants than direct sunlight during the intensely bright and hot summer months. It penetrates from all angles, reaching deeper into the plant canopy for better growth. Also, it spreads evenly; there are no "hot spots" which can lead to plant stress and slowed growth. This gentler light also helps keep the heat down.
Shade cloth is an excellent means of reducing light and heat, and so is our patented Solexx covering. Solexx has the dual benefit of providing diffused light and cooling advantages during the hot, bright summer and heat retention during the cold weather.
3. Keep Plants Hydrated.
Summer heat can lead to excessive dryness in the air. There are several ways to keep plants properly watered.
Hand watering may work better for tender plants, but will require some time. Overhead misting may be a better option. If you're growing tropicals that require foliar hydration, the air itself needs to be exceptionally moist.   Automatic watering systems also are very convenient, particularly for vacation time, when you'll need something that can be easily programmed.
Damping down the greenhouse floor can also help in humid areas, because the water will evaporate during the day, humidifying the air.
Keeping Your Cool
As you can see, we've got you covered from all directions when it comes to beating the summer heat. If you can diffuse the light, circulate/cool the air, and keep the moisture level stable, you'll have no problems getting your greenhouse plants safely through the hottest days of summer.
---
Leave a Reply
You must be logged in to post a comment.