Marion-Polk Food Share Update
It's hard to believe it's been a month since our original post on the Marion-Polk Food Share to Stop Hunger… Volunteers with the Food Share continue to come out to our 16′ x 20′ Solexx Conservatory several times each week to tend to the plants needs and as you can see by the pictures everything looks great!
The Youth Farm as mentioned last month is managed by Jared Hibbard-Swanson and is an educational project collaboration of Marion-Polk Food Share and OSU Extension 4-H Youth Development aimed at increasing the quality, diversity and stability of the local food system in Marion and Polk counties. The 2-acre farm is located at the Oregon School for the Deaf and is run by local teens.  They will be putting on a Spring Fling and Plant Sale with the vegetable plant starts in these pictures on Saturday May 10, 2014 from noon to 4pm.  Please take a look at the link to the flyer for this event and help support our local Marion-Polk Food Share.  Spring+Fling+Flyer+Option+1pdf2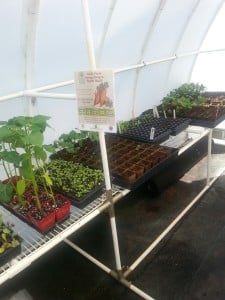 Please check out their link at:  http://www.marionpolkfoodshare.org/Programs/MPFSYouthFarm.aspx
And visit their Facebook page at:  https://www.facebook.com/yourfoodshare?fref=ts
---
Leave a Reply
You must be logged in to post a comment.