Garden Art & Festival Time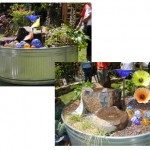 High Tailing It to Fun
Who said the economy is hurting? Friday morning vendors reported a line of people waiting for the event to open.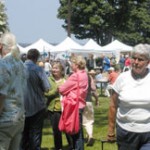 We arrived at 11:30am and the place was already packed!  One of the things I love about summertime in the Pacific Northwest is the plethora of garden tours and festivals we have to choose from. Instead of going to the same events over and over, I try to attend a few each year I haven't been to before.
One such event is Sorticulture which was recommended by a few garden friends in Seattle. The festival is held each year in Legion Memorial Park located in Everett, Washington from June 12 – 14, 2009. The 4-acre park had the unexpected delight of housing the Evergreen Arboretum and Gardens to explore as well.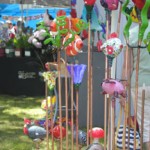 Sorticulture featured hand crafted garden art, outdoor display gardens, kids' activities, food vendors, wine garden, and live music. There were Washington and Oregon garden personalities on hand for garden focused presentations.
Washington-based specialty nurseries offered reasonably priced plants to take home. Lush and tropical Honey Bush (Melianthus major) for $9.00 in a gallon pot was a steal!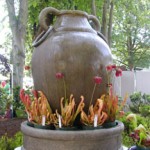 Sorticulture has the same feeling as the Salem's Art Festival held at Bush Pasture Park July 17-19, 2009 only on a slightly smaller scale and with more of a plant focus.
Parking was easy if you arrived early. If not, the city of Everett provided free parking and bus service from Everett Community College. The event was free to the public and on a bright, sunny clear day in June there was nothing finer.
One of the inspiring display gardens was created by Planscapes landscape designer Pam Roy.
Housed in a round metal animal watering trough, Pam created a self-contained garden island. She carefully place two bubbling rocks and filled the space ornamental grass, Acanthus mollis, Irish moss, and glass artwork topped off with crushed gravel and rocks. It was a perfect example of how even in a small space – a miniature, peaceful garden space can be designed.
I am not opposed to driving to find treasures that may escape us locally. To make it a worthwhile day trip from Portland, I stopped by Ravenna Gardens and Smith & Hawken at University Village on the drive up. Dana, my Seattle plant buddy and I strolled through the vendor booths at a comfortable pace and finished in about two hours. Arms bursting with books, plants and garden art we had a successful garden fair.  On the way home, we rounded the day out with a stop to Molbak's located in Woodinville, Washington.
Please consider adding Sorticulture to your garden event must do list for June 2010!
Photos taken by Dawn Hummel, June 2009.
---
Leave a Reply
You must be logged in to post a comment.