Solexx used in Aquaponics
We love finding Solexx Greenhouse projects on the internet. Here is a Solexx custom greenhouse used cover a tank of Tilapia fish.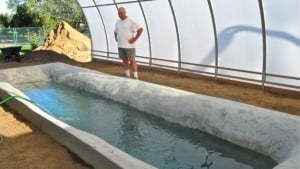 "Hoop frame is for a cold frame style greenhouse with a soft poly draped over it. All we had to do was assemble it. It worked out perfect for the Solexx covering."
http://community.theaquaponicsource.com/photo/photo/listForContributor?screenName=227t7x0fgn4l9&test-
locale=&exposeKeys=&xg_pw=&xgsi=&groupId=&groupUrl=&xgi=&page=1
---
Leave a Reply
You must be logged in to post a comment.