About Solexx Greenhouses
Solexx greenhouses are designed to allow you to grow your flowers and plants all year in most climates.  When you have a Solexx greenhouse you never have to worry about putting your growing season on hold during the winter, they are designed to allow you to grow during all four seasons; something that other greenhouses cannot do.
The way that Solexx greenhouses work is quite simple. Solexx greenhouses are constructed from a material that looks very much like a translucent corrugated cardboard. This scratch resistant, lightweight material is ideal for greenhouse gardening. It helps hold in heat and admits up to 75% of highly diffused UV rays. Solexx greenhouses come a variety of greenhouse kits and can include different types of glazing for differing climate zones. During a sunny but cold winter day, the greenhouse can reach temperatures of 90 degrees. Because the greenhouse is insulated, you can add heat to keep your plants safe during the night and on cloudy days.
Many people that buy Solexx greenhouses also add exhaust fans to their set up.  This helps to ensure proper ventilation year-round, while also preventing overheating during the summer months.  Fans are great additions to any Solexx greenhouse because overheating is one of the most common causes of plants and flowers dying prematurely. Overall, Solexx greenhouses offer many advantages.  They allow you to grow during every month of the year.  When you buy a Solexx greenhouse you are getting more than a run of the mill greenhouse.  You are getting a year-round garden!
Click here for some hints for applying Solexx
Custom solutions with Solexx
Not everybody can find the right size greenhouse kit for their property. While others might have some existing framework or an old shed that could easily be converted into a greenhouse. These are some of the advantages of working with Solexx:
Easy to work with: Solexx is extremely tough yet very pliable. It can be curved over a structure then scored and folded around peaks and corners (to eliminated the need for flashing). You can even cute Solexx to shape while it's attached to the structure with a sharp knife (no need to cut with a power saw).
Convenient sizes: Solexx can be applied on the outside of the structure in one continuous piece across the length of the frame or up and over the opt of the frame for minimal material waste.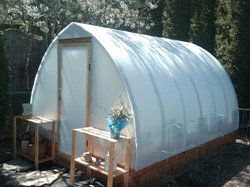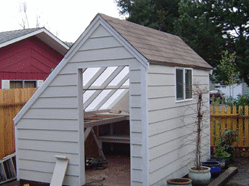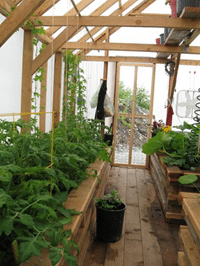 Features and Benefits of Solexx
Diffused Light. The plastic used for Solexx greenhouses gently diffuses sunlight. This enables all of the plants inside the greenhouse to soak in the sunshine evenly by eliminating shadows. This diffusion also helps keep the plants from being burned by the intense sunlight on hot summer days.
Insulation. The plastic shell used for Solexx greenhouses offers a degree of insulation, helping you to keep heating costs down in the wintertime.
Structural Strength and Functionality. Many of the features that make your Solexx greenhouse flexible and functional are the same features that give it its incredible structural strength. These include hanging rods and benches that are built into the structure. Each hanging rod is capable of holding several hundred pounds while at the same time reinforcing the greenhouse's structural strength.
Composite Frame defies the elements. Your Solexx greenhouse's composite frame won't rust or warp from the rain and snow. It won't hold moisture nor will it conduct heat or cold. Additionally, because it is white, it won't cast shadows on your plants. Instead, it reflects the diffused light allowing you plants optimum lighting conditions.
Flexibility. Most Solexx greenhouse kits are expandable and adaptable. Your Solexx greenhouse is designed to be able to grow with you as you expand your greenhouse gardening.
Durable. The plastic covering of your Solexx greenhouse is practically indestructible. Glass greenhouse owners need to constantly worry about a variety of things that could break the glass panels. With a Solexx greenhouse, you can rest easy knowing that rocks and other flying or falling objects won't break or destroy your greenhouse or require time-consuming and costly repairs.
Low maintenance. Unlike most types of greenhouses, your Solexx greenhouse does not require a great deal of ongoing maintenance. For most situations, spraying the outside shell with a hose once or twice a year, or washing your Solexx greenhouse with a warm soapy water for tough grime, is plenty to keep your greenhouse garden looking and functioning great.
Types of Solexx Greenhouses
Early Bloomer Greenhouse:
8'W x 8'L x 6'3″H

Extra Strong composite Frame
Extra large manual air vent
Twin-wall Solexx panels
2 full-length plant hanging rods
Lockable door
Free delivery (to lower 48 states)
10 year Warranty

Accessory Kit (tie down kit, solar opener, solar opener, 4 base vents, 8 x 10 shade cloth, 10 x 10 flooring and free delivery)
Gardener's Oasis and Garden Master Greenhouses:
8'W x 8'L x 8'H, 8'W x 12'L x 8'H, 8'W x 16'L x 8'H, 8'W x 24'L x 8'H

Extra Strong composite Frame
Twin-wall Solexx panels
Easy-Flow Louver Air Vent
2 double-tiered, full length 29″ deep bench frames (hold over 2000 lbs total in 8 x 8 greenhouses)
Lockable door
10 year Warranty
Free delivery (to lower 48 states)

Deluxe Package included (read below for more information)
Harvester and Conservatory Greenhouses:
8'W x 8'L x 8'H, 8'W x 12'L x 8'H, 8'W x 16'L x 8'H, 8'W x 24'L x 8'H

Extra Strong composite Frame
Twin-wall Solexx panels
2 full-length hanging rods (4 in Conservatory)
Easy-Flow Louver (2 in Conservatory)
Double-tiered and single-tiered full length bench frames (hold over 2000 lbs total in 8 x 8 greenhouses)
Lockable door
10 year Warranty
Free delivery (to lower 48 states)

Deluxe Package included (read below for more information)
Deluxe Greenhouse Packages
** Only pertains to four of our greenhouses: Gardener's Oasis, Garden Master, Harvester, and Conservatory
Based on the size of the greenhouse that is best suited for you and your available space, the price includes:
Back to our home page