Summer Sunflower Growth Update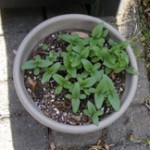 Container Planted Sunflowers
Raising Their Heads Towards the Sun
I planted dwarf 'Junior' in the Solexx panel covered greenhouse in a plastic container on May 27, 2009. I am happy to report we have 2-3" of seedling growth 21 days into their growing cycle.
Feedback
Have you had any experience with growing sunflowers in your garden or greenhouse?
I would love to hear your experience and comments!
Garden photo taken by Dawn Hummel.
Sunflower photo provided by Renee's Garden.
---
Leave a Reply
You must be logged in to post a comment.