Building Soil Tampers
Tamp Dancing
I rented Martha Stewart's Spring Gardening Series from the local video store for tips and hints on seed starting. In one segment, Dan Hinkley demonstrated how to build handmade soil tampers.
Soil tampers can be used before or after sowing seeds. They evenly push tiny seeds into soil easier than a fist or fingers. I tried sourcing pre-fabricated tampers locally and on the internet. Available from the UK, tampers range about $10 – $25 online not including shipping. I wasn't ready to shell out funds allocated for plants and seeds, so I created yet another carpentry project for my husband.
Materials and Time Required
Total project cost averaged $5.00 using scrap wood and materials on hand.
It took one person and two hours to build four soil tampers.
Tools Used
• Black sharpie marker
• Broom and dust pan
• Dust mask
• Ear muffs (hearing protection)
• Extension cord
• Eye goggles (eye protection)
• Jigsaw
• Metal angle
• Power drill
• Quick grip clamps
• Ruler
• Screwdriver
• Straight edge
• Tape measure
• Wood glue
• Workmate table
Materials Needed
• Container templates
• Wood screws
• Scrap 1/8" – ½" plywood
Prep Work
Step 1. Clear and clean working area.
Step 2. Prior to beginning project, charge all cordless tools.
Step 3. Pick a clear, cool and dry day to work.
Cutting Corners
Anything that can save a tremendous amount of time on repetitive tasks always catches my attention. Since I plan on using the same size containers for seed propagation repeatedly, I selected four template containers.
Square and Round Container Templates
• Copy outline of container onto plywood in pencil.
• Secure wood snuggly with quick grip clamps to stabilize template on workmate table.
• Screw blade into the jigsaw tool facing out.
• Cut 'inside' the template line so the tamper will fit inside the pot snuggly.
• Create a long handle out of scrap wood.
• Dab a spot of wood glue, center the long handle on wood base.
• Using a wood screw or nail, turn base upside down and attach handle.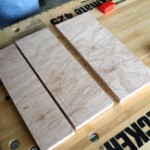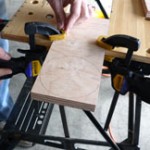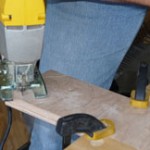 Seed Tray Template
The seed tray template took the longest to construct, but provides the most time savings when starting large flats.
• Copy outline of tray pack cell onto plywood in pencil.
• Measure the center of each of the cells. Using a black sharpie marker and straight edge or metal angle, create crosshairs on the underside of tamper template.
• Secure wood snuggly with quick grip clamps to stabilize template on workmate table.
• Create nine small block tampers and one long handle out of scrap wood.
• Center each individual tamper onto base. Attach using a spot of wood glue for added strength.
• Using a power drill and wood screws, turn base upside down and attach each block tamper to the cross hair lines.
• Invert and attach long handle to middle of tamper.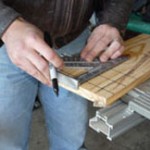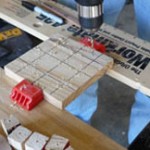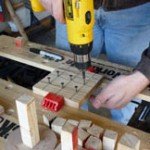 Saving Time and Money
Martha actually had a project that was as simple and easy to create as shown on the video. Save time sowing seed flats in the greenhouse and money by using materials around the garage. Have fun and get growing!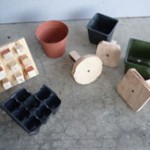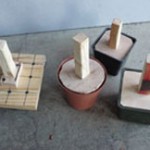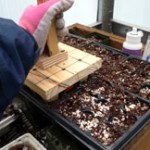 ---
Leave a Reply
You must be logged in to post a comment.