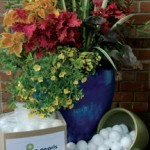 Four Seasons Container Gardens – a Portland, Oregon-based container design firm – specializing in design and installation of container gardens shares not only the same passion and admiration I have for container gardens, but also the same headaches. What to fill really large pots with to make them lightweight, movable and easy to replant in the future?
Good Ol' American Ingenuity
Joanna Guzzetta, principal at Four Seasons Container Gardens investigated all the old so called "remedies" – packing peanuts, broken clay shards, empty plastic bottles, nursery pots, and coffee filters – with little success.
Broken shards, rocks and soil and other fillers clog and only cover the drainage hole and could be hard to lower into larger containers, plus a large quantity is required. Cardboard disintegrates over time. All of the conventional options do not provide plants an optimal drainage environment. And for customers requesting fruiting and vegetable container gardens, Four Seasons Containers could not guarantee what chemicals might be leached into the soil when these materials started breaking down.
Did you know packing peanuts are flammable? Local Metro recycling locations will not recycle packing peanuts. Peanuts are not environmentally friendly and roots tangle themselves throughout. This renders saving the plants and repurposing them almost impossible.
A Pearl of an Idea
Frustrated with not being able to find a prepackaged, environmentally friendly, lightweight and easy to use product, Guzzetta also desired something that would give the pot stability and support and fit all shapes and sizes of containers. Guzzetta created Packing Pearls to fill a need for her company. After a year of testing and proven results, Four Seasons Container Gardens, decided to share their creation with container gardeners nationwide.
Packing Pearls was formally introduced to the gardening public in February 2009 at the NW Seattle Flower & Garden Show and the Yard, Garden & Patio Show in Portland, OR. The reception by attendees was overwhelmingly positive. Multiple show attendees commented: "Where have you been? I've been looking everywhere for something like this!"
Stringing it All Together
Packing Pearls fits the bill. The light-weight polystyrene spheres balls that are made from 35% recycled materials which can be reused over again. The large balls when placed in the container create air spaces providing better air circulation to the roots resulting in strong, healthy plants.
Manufactured in the USA, Packing Pearls is helping the local economy as well. They reduce the amount of soil needed to fill the pot saving time, money and back breaking labor.
Pre-packaged kits come with pearls, a drain shield and fabric pot liner. Packing Pearls comes in kits or you can purchase parts individually.
Kits are available in two sizes small and large on The Greenhouse Catalog website.
Snappy Installation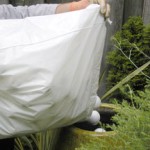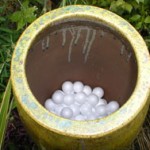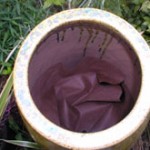 Step 1
The drain shield should be positioned over the drainage hole which allows for excess water to be released and keeps soil in.
•Make sure the pot hole is clean and dry
•Remove paper tape from bottom of shield exposing the sticky tape
•Place drain shield down over hole and press lightly
Step 2
•Add layers of lightweight pearls to fill 1/3 the pot depth.
•Note: When planting annuals, you can increase the depth to 1/2 the height of the pot.
Step 3
The liner allows water to flow through to the bottom of the pot as well as provides a resting spot for the root zone.
•After placing pearls in pot, cover with the durable fabric liner.
•The easy to cut pot liner should be 2″-3″ wider than the pot width to cover all the pearls and container sides.
•Place the brown side up and black side down.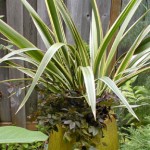 Step 4
Add soil, fertilizer and plants.
I mixed a variegated New Zealand flax Phormium cookianum 'Tricolor' from Xera Plants (thriller), Sizzling Pink Fringe Flower Loropetalum chinense 'Sizzling Pink' from Monrovia (filler) and Proven Winners ILLUSION™ Midnight Lace Ipomoea batatas (spiller).
Step 5
Step back and enjoy the results!
The entire procedure to fill and plant a tall pot 3' x 1' took a total of fifteen minutes to complete.
Feedback
Have you had any experience using Packing Pearls? I would love to hear your experience and comments!
Photos taken by Dawn Hummel.